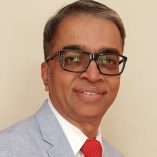 From Maharashtra State IADVL President's desk
Dear Colleagues,
Greetings from the desk of President of Maharashtra State branch of IADVL!
The Maharashtra state branch has been shaping up well over the past decade and undeniably holds great promise.
Nagpur, the winter capital of Maharashtra State, hosted the well-designed and scientifically appealing 'Cuticon 2018 Maharashtra'. Delegates heartily appreciated the rich scientific content and the warm Vidarbh hospitality making it a resounding success in its maiden attempt.
As State President, it is my humble and ardent wish to stimulate, support and promote continuing medical education of members through vibrant academic events across the state. Keeping in with the vision and mission of IADVL, I am of the opinion that Community Dermatology deserves our whole-hearted attention and involvement. Periodic Skin Health Camps and Health education programs conducted by city chapters of IADVL in both urban and rural areas with active involvement of mass media will go a long way in achieving skin health in every economic strata and creating public awareness against unscientific, misleading and often harmful advertisements
 Dr. Sharad Mutalik
President IADVL Maharashtra